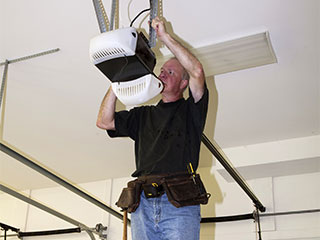 Quality Maintenance and Repairs
You can't let your garage door be out of service for long. Apart from being an inconvenience, it compromises your safety. Can you really take that chance?
This is an unnecessary risk, since simple maintenance and repairs can prevent problems & get your door working again quickly. Why take risks if there is an easy solution?
Schedule General Maintenance
What is the reason your door is making noises or gets stuck? When last did you inspect parts for being worn, corroded or loose?
All your door needs may be proper lubrication or tightening of screws. But garage door repairs can be complex, so trust our experienced team. You don't want to miss one screw or bracket. A piece that's out of place can pull the entire door out of alignment.
Partner with experience. We'll ensure all parts are in working order. Next time, catch the problem before it escalates and call the people you know you can trust.
Solving Serious Problems
Your door is quite complex. Are the springs stressed? Are the tracks aligned? Do the rollers run smoothly? One faulty part can prevent your door from opening or closing the next time you push the button.
If it's not budging, we'll help you find the problem and sort it out quickly. Whether you need a cable replacement or a spring tightened, we know how.
Let's Be Pro-active
Do you suspect problems with your door? Small signs usually exist: noises or jerky motions. You'll notice them if you pay close attention. Don't be alarmed though, it's simply time to call experts to handle it before it becomes worse. At the first sign of trouble, call us in Oakdale to take charge and put you back in control of the situation.
We also offer the following services:
Part Replacement & Lubrication
Screw Drive Opener Replacement
Emergency Broken Spring Replacement
New Garage Door Installation