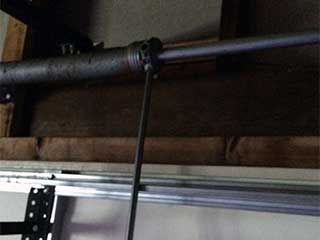 A lot of people do not give any consideration to their garage door springs, even though they are amongst the most important component in this contraption we call garage door.
Most garage door problems are caused by or can be traced to a weakened or broken spring. Fortunately, they can be replaced but be warned it is important to have an expert technician handle anything related to this specific part. This is because springs are under a lot of tension which makes them very dangerous to tamper with.
This post is simply to give general information on springs and easy maintenance tasks you can carry out yourself, however it is not a guideline to instruct you on how to fix more complicated issues as we've mentioned – these parts are not to be tampered with.
How Many Types Are There?
There are mainly two types of these parts: torsion and extension springs.
Torsion springs are installed above the door. As the door closes they store up energy by winding up around the shaft to which they are attached. When the door is opened, they transfer the torsion force to cables attached to the bottom of the door, and this helps to pull the door up.
Extension springs on the other hand are installed directly above the top tracks on each side. When the door closes, the springs are stretched storing potential "pull-force". As the door is opened, the spring try to return to their relaxed state thereby pulling the door upwards from the floor. Extension springs have cables running through them; these cables play a safety role in the event that the spring snaps.
None of these two types is better than the other; it's just a matter of what you'd like. They are both efficient.
What About Your Safety?
As stated in the previous paragraph, both torsion and extension springs are under a lot of tension, and so if you suspect a problem it is safer if you just called an expert to take a look at it, and fix it. If they break while being tampered with, they can inflict serious injury to the person. Be warned!
What About Maintenance?
If your springs are making funny noises, such as shrieking or squeaking, it may not necessarily mean there's a problem with it. You can just squirt some manufacturer-recommended lubricant on both parts.
Take a Look Every Once in A While
Also, it is very important to have your springs checked from time to time, say every three months by a pro. This way, any potential problem will be detected before they occur. Although your springs have an average of 13,000 cycles, that means your springs will twist and untwist (for torsion) or distend and contract (for extension) 13,000 times before they "retire". That amount of cycles would take years to complete, however - still have them inspected regularly.